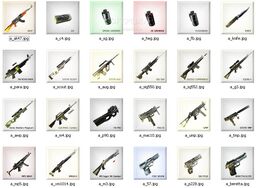 Counter Strike eshte nje loje e cila preferohet shume ne qendrat e lojrave.Ajo preferohet me shume duke luajtur online me miq te tjere sesa vetem.
Kjo loje ndahet ne shume versione:
1.Counter Strike :NS (Non Steam)
2.Counter Strike:Condition Zero
3.Counter Strike:1.6
4.Counter Strike:1.7
5.Counter Strike :1.8
6.Counter Strike:1.83
7.Counter Strike:1.9
Counter Strike
Rreth tij
Ram:512mb Karte grafike:128 mb Procesor:1.60Ghz
1-32 player english aksion
VALVE
Ad blocker interference detected!
Wikia is a free-to-use site that makes money from advertising. We have a modified experience for viewers using ad blockers

Wikia is not accessible if you've made further modifications. Remove the custom ad blocker rule(s) and the page will load as expected.